Vroom Vroom: Accelerating the New Era of Health Care
As the sounds of race cars zoomed through the room at the 19th annual Pittsburgh Business Group on Health (PBGH) Symposium, the event's emcee, Lee Lewis, zipped to the stage in a racing jumpsuit and helmet to welcome the crowd of nearly 400 attendees and set the tone for how employers can Accelerate the New Era of Health Care.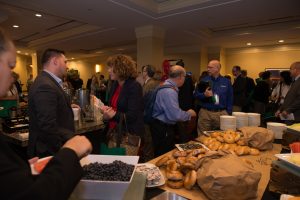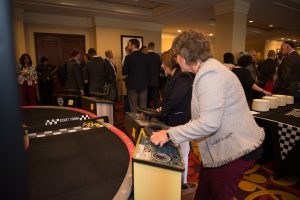 PBGH CEO Sets the Pace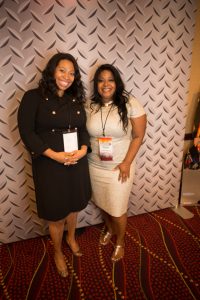 PBGH's CEO and Executive Director Jessica Brooks set the pace for the day with a personal story of how she stared down her own health care obstacles to provide a better life for her family.
And, she challenged and encouraged employer-members and others to work together to make Pittsburgh the benchmark to accelerate true change health care. "We're made for this. When we say yes to advancing health care, we help families, your organizations and the community," said Brooks.
There is No "I Can't."
Melissa Harville-Lebron, founder and CEO of the first multicultural sibling NASCAR team, E2 Northeast Motorsports, was the first featured keynote speaker at the PBGH Symposium. As she took attendees down her life's journey, they quickly learned that "I can't" weren't  words in her vocabulary. "My story brings awareness that there are opportunities in front of us every day. When this opportunity came to me [to become a NASCAR team owner], it was an open door and I walked through," she said.
The day rounded out with a series of learning sessions, some of which included continuing education credits for SHRM and HRCI.
Building New Health Care Products Around Direct Care
Bob Nelson, MD, founding member & spokesperson, Free Market Medical Association, David Balinski, sales vice president, Continental Benefits, Jed Constantz, DBA, client/member specialist, Health TeamWorks and Cristin Dickerson, MD, managing partner, radiologist, Green Imaging, shared, Building New Health Care Products Around Direct Care.
Bob Nelson kicked off the discussion with a quote from Frédéric Bastiat, "The worst thing that can happen to a good cause is not to be skillfully attacked, but to be ineptly defended." This session showcased three direct care strategies that enable affordable services for patients. Each presenter examined scalable direct contracting models designed to significantly reduce financial burden and optimize care delivery.
Reshaping Health Care for the New Driving Force: Customization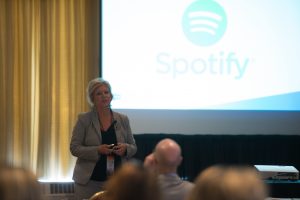 In her presentation, Reshaping Health Care for the New Driving Force: Customization, Shauna Sanford Howell, senior vice president, business development, Wellview Health, explained consumer experience and customization as it relates to industry success and failure.
"Health care is a very personal topic, and if we're not open and vulnerable about our own experiences, we're going to miss the opportunity to learn from one another," she said.
Shauna used examples from companies such as Spotify, Fortnite, Find My Friends and others to explain the importance of customization and how it applies to health care.
Systematic Shift: You Run a Health Care Business Whether You Know It or Not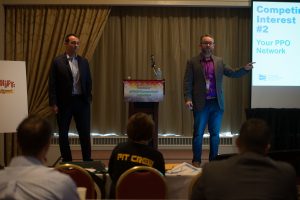 Together, David Contorno, founder, E-Powered Benefits and Bob Gearhart, Jr., CEO, DCW Group, presented their topic, Systematic Shift: You Run a Health Care Business Whether You Know It or Not.
They said attendees should understand "health care" and "health insurance" are two very different things, even though people tend to intermingle them in their brains. "We have Stockholm Syndrome in this country with our carriers," said Contorno. "We go to them for everything. For patients, they determine what doctor can be seen, when, and what it's going to cost. As an employer, carriers determine what kind of benefits can be provided, the coverage and what it's going to cost.  For physicians, they dictate what can be prescribed and how they can be treated. We have relinquished all control in a blind, nontransparent fashion to entities that benefit as costs rise."
Kiio for Low Back Pain
This session helped employers understand the impact about lower back pain on productivity, particularly as it relates to opioid prescriptions and being a leading driver of employment costs. Kiio's Founder and CEO, David Grandin, and Vice President of Product Strategy, Lydia Zeller, presented their company's digital solution to the growing issue during one of the Symposium's "Innovation Circle" segments.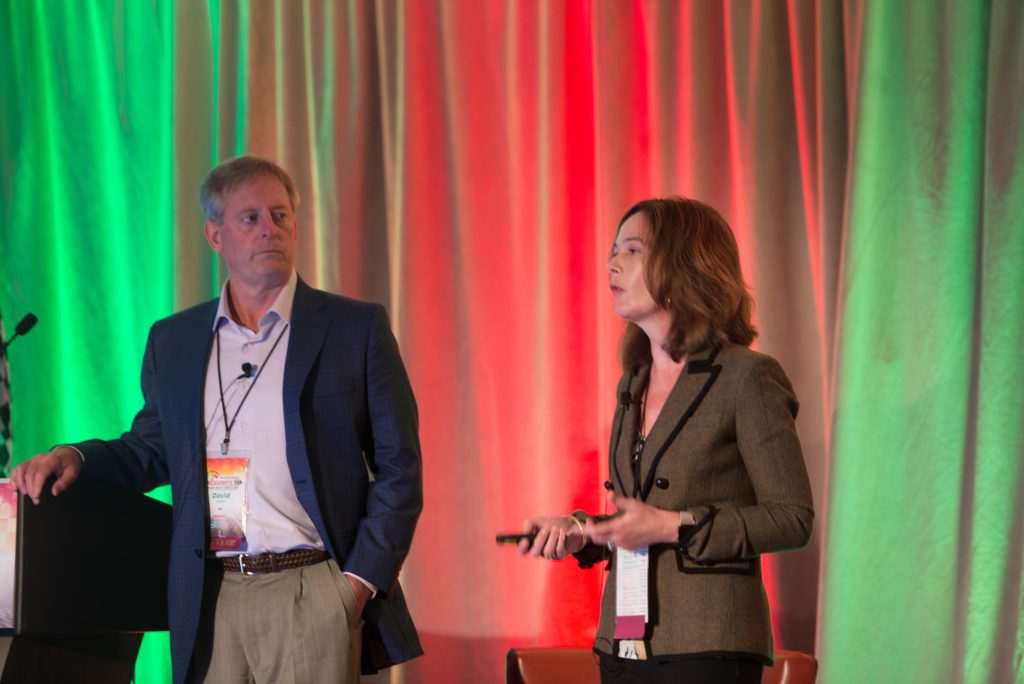 Making of a Healthy City
Dan Buettner, founder of Blue Zones LLC., National Geographic fellow and New York Times bestselling author, began his keynote session with eight health-related questions for the audience: "If you can't measure it, then you can't manage it."
Questions included:
Do you sleep at least seven hours most nights of the week?
Do you move at least 30 mins every day?
Do you eat three honest servings of vegetables?
Have you not had unprotected sex with a stranger?
Do you have three good friends who meet and have meaningful conversations, can call on a bad day and do you actually like them?
Do you believe in any particular faith and do you show up four times a month?
Have you not smoked in the last five years?
Do you believe you have the health and will to live to be 90?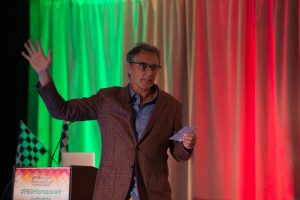 Dan said these questions provide a fairly good barometer on how long you'll live based on how many times you raised your hand. He then took attendees down the road to how to transform cities to be healthier and happier – ultimately living longer lives.
The Path Forward to Using Provider Quality Data
Christina Bell, PBGH's director of programs, moderated, The Path Forward to Using Provider Quality Data. Shane Wolverton, senior vice president, corporate development, Quantros, Inc. and Robert Smith, CEO & executive director, Colorado Business Group on Health joined her to provide insight on provider quality data and how it's being applied to change the industry.
The presenters agreed the country can no longer sustain the way we procure health care, including two key metrics that are hard to control: price variation and quality variation. The panelists said both need to be altered in a way to accelerate true change in health care.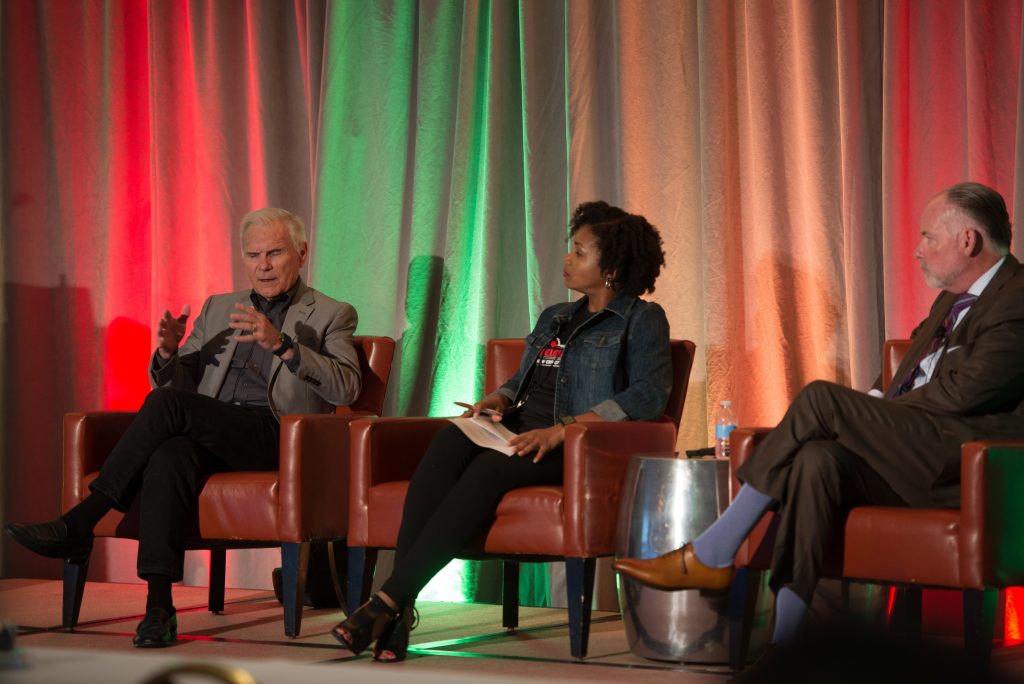 Millennial Engagement in Health
Jonathan So, president of Solera Strategies, gave a unique presentation on, Millennial Engagement in Health, which included how millennials need to better understand what health means to them. "Even though you're healthy today, doesn't mean you'll be healthy tomorrow, he said." According to So, there are four ways to measure engagement:
Commitment – confidence and ability to maintain a healthy lifestyle
Informed Choice – patterns of seeking and using information; do you actually know how to find the information you're looking for?
Ownership – you perceive it is your own role and responsibility that you need to take care of it
Navigation – you need to have confidence and ability to go ask and participate in your health choices
He provided information to employers on how they can guide and engage millennials into improving health literacy, smarter benefits usage, and value.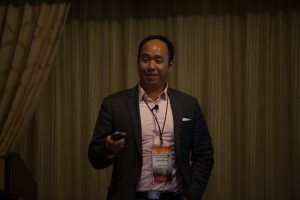 Driving Disruption with Musculoskeletal Conditions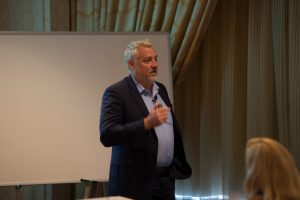 Did you know more than 90 percent of the world's population will battle a musculoskeletal disorder at some point in their lives? Chad Gray, CEO, Integrated Musculoskeletal Care, Inc., presented employer case studies, which have resulted in decreased health care costs, improved clinical outcomes and increased productivity for those associated with musculoskeletal conditions.
"Somewhere between $1,700 and $2,300 per member/per year is consumed by managing musculoskeletal patients or conditions, and that represents about 4 percent of the U.S. economy or about $850 billion a year." 
Addressing a Costly Crisis: Innovations in Maternity Healthcare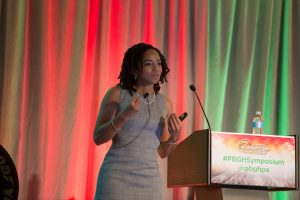 Melissa Hanna, co-founder and CEO of Mahmee, presented about one of the costliest categories in traditional commercial insurance: maternity care. In her discussion, Addressing a Costly Crisis: Innovations in Maternity Healthcare, she explored new trends, such as telemedicine, active birth planning, lactation education, and back-to-work support, explaining how they can benefit both employer and employee. "From birth to birthday is when the highest costs take place." It has the most direct impact on employer and employee relationships. If we can get a handle on that and ahead of that and proactive care and high quality support and services we can see a completely different dynamic both from an economic perspective and from the relationship you have with the employee." Melissa went through her solutions, giving attendees the knowledge they need to make changes in their maternity programs.
Opioid Alternatives Changing the Surgical Landscape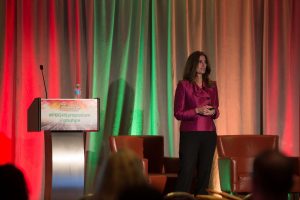 When it comes to opioid prescritions post-surgery, one in 10 patients who are prescribed opioids for surgery continue taking them for the long-term. "Everyone in this room would raise their hand if I asked how many of you have been affected by opioids in one way or another," said presenter Janet Poppe, vice president, payer and employer relations, Pacira Pharmaceuticals, Inc.
"Opioids are the same derivative of heroin, and you wouldn't give it to your child for pain, would you?" Her topic hit home for many attendees, as Pennsylvania has the fourth-highest overdose rate in the U.S.
Top Rx Solutions For Employers 
A trio of leading drug manufacturer representatives from Novo Nordisk, Merck, and Abbvie shared some of their company's top solutions to help PBGH employer-members drive behavior changes, engagement and prescription adherence among employees.
Paul Dempsey, senior national account manager, Novo Nordisk, Inc., explained that his company is developing and deploying programs that help get care to patients while simultaneously helping employers maintain cost, particularly as more than 15 percent of the population is expected to be diagnosed with type 2 diabetes by 2030 – stimulated in large part by increased obesity. He said 12.5 percent of the population has been prescribed medication for obesity, but of that amount, only 50 percent are engaged in taking the drugs. He attributes low engagement to limited physician training, regulations, questions about reimbursement for doctors, and the fact that obesity was designated as a "disease" only five years ago.
Kate Robinson, executive director, account management, Merck, said her company supports a market that balances safety, innovation, and savings. In particular, she discussed the growing importance and value biosimilar pharmaceuticals can and will likely play in helping patients engage and adhere to their medical prescription regimens. Moreover, biosimilars can help bend the cost curve employers are seeing relative to the ongoing increases in specialty drug development and pricing. A biosimilar is a biological product that is highly similar to and has no clinically meaningful differences from an existing FDA-approved reference product.
She indicated that while there are approximately 12 biosimilars approved for the market, only some of the drugs are being used. What can employers do? Robinson indicated PBGH employer-members can work with their plan partners to understand the organization's specialty drug trend line and help employees understand the impact of drug pricing relative to how biosimilars can bend the cost curve.
Lastly, Robin Kahn, employer channel marketing, AbbVie, encouraged PBGH employer-members to do their part in making sure that when it comes time for a patient to begin a drug therapy, that they have everything they need to understand how proper adherence is key to their long-term health.
Moreover, she advised attendees to think holistically about where patients are "coming from" relative to their health, including potential barriers to care and their goals. Employees can help in this regard, for example, by utilizing ambassador programs that can help provide key intervention and care follow-up for patients to reduce the risk of medication abandonment.
Gender Disparities in Mental Health
Stuart Lustig, MD, MPH, who serves as the National Medical Executive for Behavioral Health at Cigna, discussed gender-based mental health disparities between the sexes and, in particular, how those disparities can negatively impact the health diagnosis and care of women.
For example, females face a higher degree of depression, eating disorders and panic disorders, while males typically face more alcohol abuse, ADHA and autism. Lustig attributed these differences to a variety of factors, including, but not limited to societal impact, environmental conditions, and clinical biases. Mental illness in women is also often a function of socio-economic conditions, varying life events and hazardous workplace conditions.
Lustig added women are more likely to face a variety of comorbidities, including depression, anxiety and panic disorder. And, while women are more apt to discuss mental illnesses with a primary care physician, men are likely to visit a specialist. Nonetheless, similar or the same symptoms exhibited by patients can often yield different diagnoses, which create an opportunity for inconsistent care or biases.
Some of the barriers that prevent women from addressing the weight of mental illness can be addressed, according to Lustig, with a commitment to access to care via continued growth of female physicians, advancements in telehealth, and increased caregiver support and education.
He said PBGH employer-members can do their part by designating champions in their organizations to discuss and help lead efforts around mental illness awareness, communicating opportunities for care and analyzing employee data about potential gaps in education or care opportunities.
Next Up: The 2018 Annual Meeting and Community Forum
See you at the PBGH Annual Meeting and Community Forum, Tuesday, December 4, 8 a.m. – 12 p.m., at the Pittsburgh Marriott City Center. Visit www.pbghpa.org today for more information and to register.