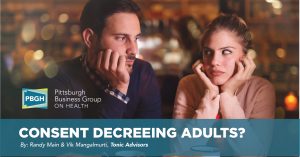 Consent Decreeing Adults?
When giants battle, sometimes we mere mortals get trampled. The Consent Decree, the state imposed temporary treaty between Highmark and UPMC, expires as of June 2019. What this means for all practical purposes is that after June, UPMC facilities – with very few exceptions – no longer are in-network for Highmark insurance customers and vice versa. This is a big deal right now. Many seniors have entered open enrollment for Medicare Advantage plans (the private plans that manage many senior's Medicare benefits). If they want managed Medicare, they will have to decide soon which carrier will do the managing. In many cases this means that their choice of insurer may limit their choice of providers. This is a pretty big change for many people who have grown accustomed to being able to see any provider. This is going to mean that for some folks, choosing the plan with the best benefits or price will mean having to stop seeing their usual doctors, or stop going to facilities to which they have grown accustomed.
Let's separate fact from fiction and review some of the impacts to the region and to all employers.
What's Happening
As of July 1, 2019, Highmark members will no longer be considered in-network at most UPMC hospitals and facilities. What this means is that the negotiated rates that Highmark had with UPMC (often 60-85 percent lower that UPMCs actual "sticker" price) will no longer apply. Members will have to pay full charge, if UPMC accepts them as patients, which they are not required to do except in emergencies. Highmark had argued in the courts that the UPMC hospitals should not be considered "truly" out of network as applied to its Medicare Advantage members until 12/31/2019 because Medicare Advantage is a yearly program and members should not be put in a scenario where some hospitals are in for the first half of the year but not the last half.
While courts had initially supported this argument, Highmark lost on appeal by UPMC. UPMC made the case that Medicare Advantage customers should make their choices based on the providers in network for the whole year, and if UPMC was going to be out of network as of 6/30/2019, then that should be a factor in their choice of Medicare Advantage plans. After some back and forth, the Pennsylvania Supreme Court ruled in favor of UPMC stating that the contract ends at the end of 2018 with six months of runout until 6/30/2019.
The choice for many Medicare Advantage enrollees is, "do I keep my insurance coverage and the benefits I am accustomed to or do I keep my doctor?" As the area's largest insurer, Highmark wants people to stick with their carrier, arguing that the new burgeoning Allegheny Health Network is up to the challenge. UPMC on the other hand, as the area's leading health system, wants you to choose your doctor and hospital over the insurer. In a fairly unorthodox move, UPMC announced that Highmark Medicare members who want to use UPMC providers will not only have to pay full charge (a significant mark-up), they would also have to pay "up front." There will be no payment plan options for them. This "cash on the barrel" approach is not typical. It underscores how much UPMC wants to make clear to those choosing Medicare plans the downsides of choosing a plan without UPMC in-network. Through this business decision, UPMC brings home the stark reality of the effect that its split with Highmark will have on the residents of Western Pennsylvania.
Regional and Employer Impact
There aren't a lot of good publicly available data sources that provide quantitative modeling…
Want to read the entire article? Click Here