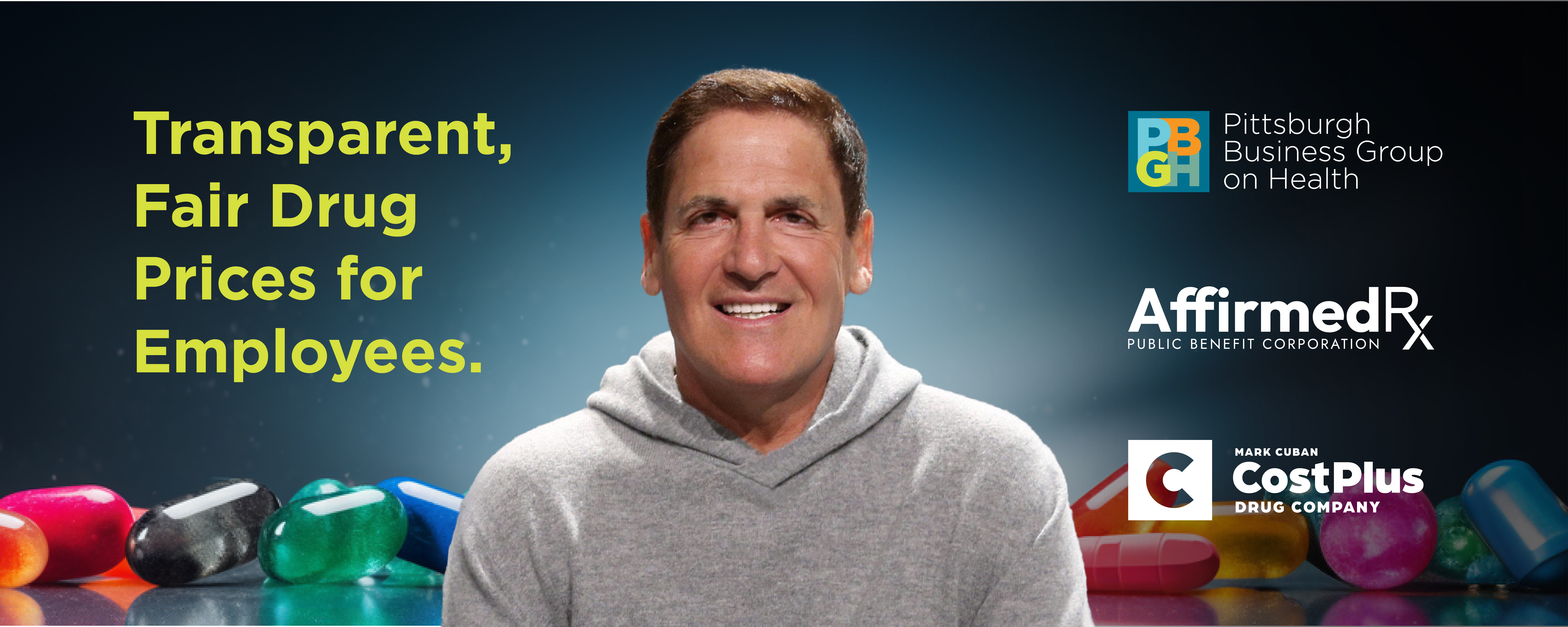 Patients Over Profits
---
The Pittsburgh Business Group on Health, AffirmedRx, PBC, and Mark Cuban Cost Plus Drug Company (Cost Plus Drugs), PBC are partnering to bring Pittsburgh AffirmedRx Plus, a first-of-its-kind product designed specifically for employers to offer their employees as a standalone product for lower-cost medications that have been contracted directly with drug manufacturers by the Cost Plus Pharmacy.
---
---
Learn More About the Partners
---

---
The Pittsburgh Business Group on Health is the region's only non-profit business coalition designed to help protect and promote the ability of employers to provide healthcare and benefits for employees. Fulfilling this mission is critical for our companies across Western Pennsylvania so our region thrives.
As PBGH aims its efforts at improving healthcare cost, quality and access for employers and their workforces, the 100+ employer-members of PBGH are focused on ensuring families have the benefit of equitable access and care no matter who they are or where they live, a strong support system for mental health awareness and treatment, and an unyielding commitment to quality rooted in solid and unbiased data.
Join us today as we work together to ensure a positive healthcare future for our region.
---
AffirmedRx is on a mission to improve health care outcomes by bringing integrity, clarity and trust to pharmacy benefit management. We are committed to making pharmacy benefits easy to understand, straightforward to access and always in the best interest of employers and the lives they impact. We accomplish this by bringing total clarity to business practices, leading with clinical approaches and utilizing state-of-the-art technology.
We promise to do what's right. Always.
---
---
Mark Cuban Cost Plus Drug Company believes every American should have access to safe, affordable medicines. If you don't have insurance or have a high deductible plan, you know that even the most basic medications can cost a fortune. Many people are spending crazy amounts of money each month just to stay healthy. No American should have to suffer or worse – because they can't afford basic prescription medications.
If you are fortunate enough to have health insurance with a low deductible, the high cost of drugs is driving up the premiums that you or your employer pay, making getting health insurance expensive and challenging.
The Mark Cuban Cost Plus Drug Company takes these problems head on.
Become a Member of the Pittsburgh Business Group on Health