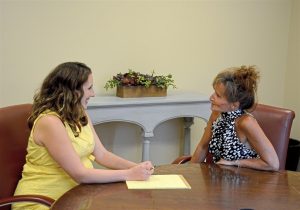 Health care remains a primary concern for most employees in the job search process, though some companies say that age impacts how important of a consideration those benefits are.
At Leroy Metz's Downtown law firm Metz Lewis Brodman Must O'Keefe, younger employees do not focus on health benefits as much as their older counterparts when applying for jobs.
"They're healthy, and they haven't had much experience with the need to have medical procedures, so they're really not tuned into the kind of financial catastrophe that could be visited upon a person," Mr. Metz said.

The firm's 52 employees receive the same benefits package through UPMC. That package includes dental and vision.
A similar story tracks at Community Life, the Forest Hills-based senior health company where Noralynn Spiri serves as human resources director.
In her experience, younger job candidates focus on the sticker price of health care, wondering how much money will be taken out of their paychecks. Their older counterparts, having navigated the market before, examine the opposite, with an eye on deductibles, co-payments and coinsurance costs.
Community Life offers its employees dental, vision, paid time off and retirement coverage, Ms. Spiri said.
Overall, Mr. Metz said, health benefits rare;y are first on anyone's radar when they apply for a position. Prospective employees are more focused on the work that the firm does.
"Most people are looking for a particular type of job, so they don't tend to think about the benefits package first," he said.
At other businesses, the story is different.
When asked how important benefits are to him, Trent Talbert, who works in the Pittsburgh Technical College's public safety department, responded with just one word: "Extremely." And Sian Young, an admissions coordinator for the school, said while she may not have a family to support now, health care remains very important.
Sheila Konn, another employee at PTC said the Oakdale school's health care package shielded her from having to shop around for benefits on the state's marketplace. 

"As someone who previously utilized our government's healthcare marketplace, I can say that when searching for new employment, the health care benefits were highly important to me," Ms. Konn said.
Her benefits package at the college costs the least of any one she has ever had.
For Pittsburgh-area employers trying to maintain packages that will attract and keep good workers, the tumult in the health care system has meant staying on top of changes as they come.
PTC hasn't experienced much change in its benefits package during the last decade that could be attributed to the Affordable Care Act, but the college is facing a period where it will have to come to terms with a health care change closer to home: the fracture between Pittsburgh health giants Highmark and UPMC, which will mean many health care beneficiaries won't be able to access care at their usual facilities.
Employees at PTC currently receive their benefits from Highmark, according to Nancy Sheppard, director of human resources.
The school has retained Highmark for the past three years, and have made relatively few changes to the nature of the plan. Still, Ms. Sheppard said the school is expecting some change when the consent decree — which allows some Highmark benefits users to continue to seek care at UPMC facilities — dissolves in June 2019.
"We are good for two more years, but we want our employees to be aware that the change is coming and to plan their health care providers accordingly," Ms. Sheppard said in an email.

More generally, she said she has been keeping an eye on efforts by Republicans in Washington, D.C., to repeal and replace the ACA — a measure repeatedly imperiled by party dissent over a number of proposals, including a rollback of Medicaid expansions that were implemented under the federal health care act.

"We made the commitment to stay with Highmark for the next three years. This gave us the best pricing with their loyalty credit," Ms. Sheppard said. "However, next year we may change plan designs to help with costs. We will wait and see what happens with the ACA and its implications."
Mr. Metz said the nationwide shift in the last decade toward the Affordable Care Act had a negligible effect on his firm's benefits package.
Ms. Spiri also said the ACA has not directly affected Community Life's benefits package. The company has seen an increase in premiums of about 15 percent in the past two years, an increase she attributes to the rise in patient utilization.
Still, she's hoping that whatever plan is ultimately decided on by Congress will be more flexible for companies like hers, which isn't necessarily a small business — it employs roughly 391 people — but is affected by national reporting guidelines on part-time employees.
"We've gotten through it, but it's still expensive and restricts how we can do certain things," Ms. Spiri said.
Brandon Dixon: bdixon@post-gazette.com, 412-263-3852 and Twitter @brandonjodixon.
Source: Pittsburgh Post-Gazette