Working at a kitchen table, family room couch, or something ergonomically worse has led to an increase of musculoskeletal (MSK) problems such as lower back pain among workers who transitioned to a home office during the pandemic.
These emerging health concerns add to costly MSK issues historically experienced by workers in manufacturing, transportation, and construction.
However, ergonomics and workplace injuries aren't the only things that lead to musculoskeletal pain—and subsequent productivity losses. Tobacco use among your employees is a bigger driver of MSK healthcare costs and productivity losses than you may be aware.
Trends with employers to address costly MSK claims
For most employers, MSK conditions among employees are usually a top 3 driver of healthcare costs, making it a top priority.
An estimated 126.6 million Americans – 1 in 2 adults – are affected by MSK disorders. The price tag adds up to an estimated $213 billion in annual treatment, care, and lost wages for the nation as a whole.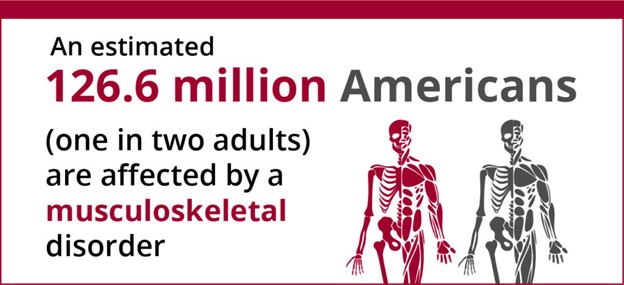 How much of that price tag are your employees generating? OSHA's Safety Pays cost calculator can total up the direct and indirect costs of a common MSK injury.
Let's take back strain as an example, which can have around $30,000 in direct costs related to healthcare expenses and sick leave. That same issue could result in an additional $35,000 in indirect costs, like lost productivity. And that's just from one event.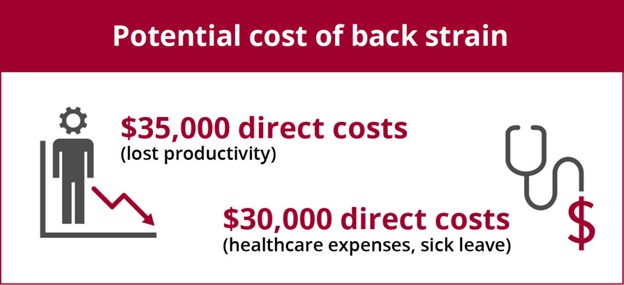 What are MSK disorders?
MSK disorders include a range of diagnoses, including:
Carpal Tunnel Syndrome
Tendonitis
Muscle/tendon strain
Ligament sprain
Tension Neck Syndrome
Rotator Cuff Tendonitis
Radial Tunnel Syndrome
Trigger finger/thumb
Mechanical Back Syndrome
Degenerative Disc Disease
Ruptured/herniated disc
These are sometimes referred to as repetitive motion injury, repetitive stress injury, or overuse injury. However, calling them that oversimplifies the fact that many risk factors lead to MSK disorders. Including tobacco use.
4 ways tobacco makes musculoskeletal disorders worse
People who use tobacco are at significantly increased risk for health problems related to bones, joints, tissues, ligaments, and tendons. The result? More sick time for them and more healthcare spending for you. Here's why:
Smoking has been shown to have a weakening effect on bones, because it reduces the blood supply to the skeletal system as well as surrounding tissues. Also, nicotine slows production of osteoblasts—the cells responsible for bone formation—so lost bone density isn't replaced. Smokers absorb less calcium from their food as well, which is another big hit for bone mineral development.
Tobacco use weakens tissues around the joints, which can lead to chronic injury and disease such as bursitis and tendonitis. The American Academy of Orthopaedic Surgeons has found rotator cuff tears in smokers are nearly twice as large as those in nonsmokers, most likely because the tendons in smokers are weaker.
Smoking is linked to higher risk of low back pain, in large part because of the degenerative effect on bones, ligaments, and tendons. Smoking reduces the flow of nutrients to joints and muscles, so if tobacco use isn't addressed, an employee will continue to weaken that area. That's a huge deal, considering that back pain is one of the top reasons that employees call in sick and take disability leave.
Tobacco use slows wound healing, because of decreased blood supply to tissues. That means smokers have a higher rate of complications after surgery, as well as higher risk of infection. A wound that may have been healed quickly in a nonsmoker then becomes a potentially long-term problem in a smoker, driving up healthcare expenditures and lowering productivity.
Certain industries have higher prevalence of MSK disorders, including manufacturing, retail, transportation, agriculture, and construction. Perhaps not coincidentally, these are industries that also see high rates of tobacco use.
Because of these exacerbating effects, tobacco use makes MSK costs even higher. Providing treatment for MSK issues without simultaneously addressing tobacco use is treating the symptom instead of the cause, and likely an inefficient use of resources.
For those with MSK conditions, tobacco cessation can make a huge difference in how the disorder progresses—or doesn't. That can save you enormous healthcare costs in the future, and strengthen your workforce into one that's healthier, happier, and more productive.
Tailored, innovative approaches can help employees quit
Tobacco users are more likely to successfully quit when they receive tailored help that is delivered how they prefer to receive support and coaching. A digital offering means your workforce can access this kind of support from anywhere – including their kitchen table or family room couch – making it easier to reach and engage all your tobacco users for as long as they need help to quit.
Find tips on how to select the best quit-tobacco program for your population, by downloading our Buyer's Guide for Workplace Smoking Cessation Programs.
To learn more about the EX Program by Truth Initiative, a digital health program for tobacco addiction built in collaboration with Mayo Clinic, please visit www.theexprogram.com.
---
Written by Dr. Amanda L. Graham, PhD., Chief of Innovations at Truth Initiative, Professor of Medicine (adjunct) at the Mayo Clinic-College of Medicine and Science
As Chief of Innovations, Dr. Amanda Graham leads the Innovations Center within Truth Initiative. The Innovations Center is dedicated to designing and building leading digital products for tobacco cessation, including the EX Program. She is internationally recognized as a thought leader in web and mobile quit-smoking interventions and online social networks and has been awarded over $15 million in research funding. She has published over 100 peer-reviewed manuscripts and serves on National Institutes of Health study sections and numerous journal editorial boards. Graham is Professor of Medicine (adjunct) at the Mayo Clinic College of Medicine and Science.
---