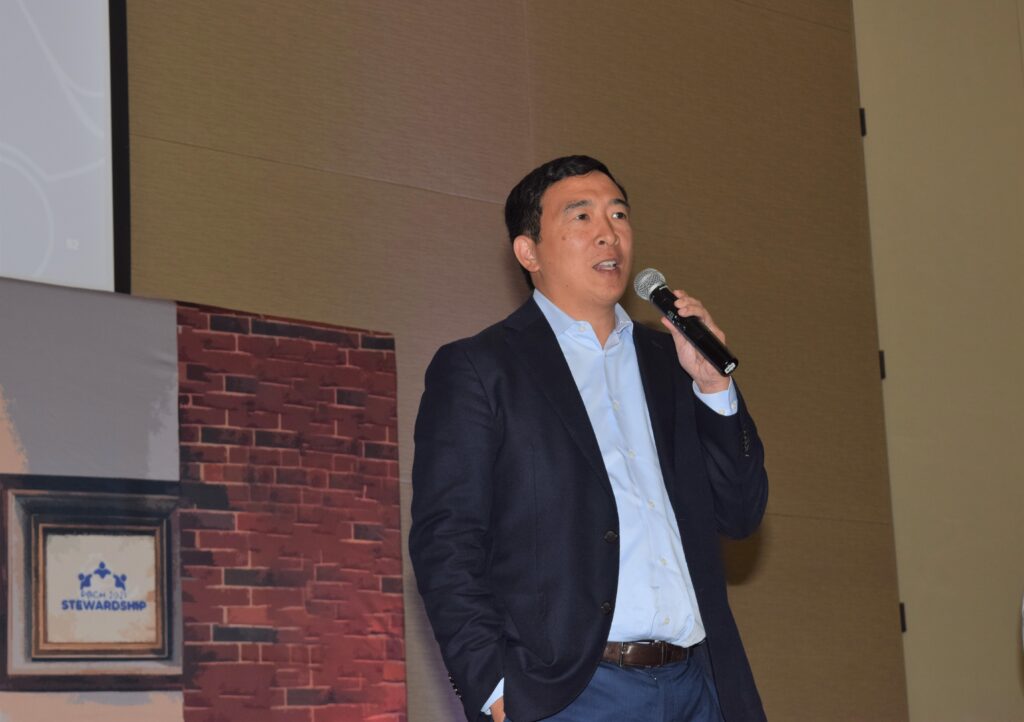 At a time when there seems to be much unrest in our country, former 2020 Presidential candidate Andrew Yang strives to make a difference. An entrepreneur, philanthropist, and best-selling author the keynote speaker smiled radiantly at his audience and said, "It's time for drunken political conversation." Referencing the bar in the back of the room and acknowledging his run for the President of the United States, it may have been an ice breaker or just his way of displaying that he is a people's man.
A graduate of Brown University and Columbia School of Law, Yang was raised in New York City by his parents who had immigrated from Taiwan. After practicing corporate law for five months, he changed focus with start-ups in the areas of fundraising, health care, and education. In fact, prior to his political pursuit, Yang founded the nonprofit Venture for America which trains recent graduates and young professionals to work for startups. 
The cornerstone of Yang's presidential platform was Universal Basic Income (UBI). UBI was Yang's "form of social security" guaranteeing a certain amount of money to every citizen within a given governed population. He proposed a payment of $1,000 per month for every adult American citizen. The idea earned him fans, but not enough votes.
Believing that America has a failing healthcare system, Yang jokingly stated, "Healthcare is where good ideas go to die." Yang's vision to provide universal healthcare for all Americans comes from the fact that the United States spends twice as much in health care as many other countries. Yang is optimistic that as a nation we are close to making health care reform the number one priority of the government's concern. He proposes reducing pharmaceutical drug costs through government negotiating, utilizing technology to help rural and low-income people access care, enriching mental health, dental, vision and reproductive health benefits, and removing lobbyists and executive out of policymaking. He also believes different health care models, such as companies opening their own health care clinics, will soon be present.
A strong proponent for a third political party, Yang claims that part of the issue is having only two political parties. This distorts incentives on multiple levels. He cites Congress as having an approval rating of only 26%, yet 92% gets re-elected. In his mind, 57% of Americans want a third party because 60% of the people believe that the two parties are out of touch as to what Americans want.
No longer in the political arena, Yang continues to provide input on American policy and practices. This October, Yang's newest novel Forward: Notes on the Future of our Democracy will be available at bookstores across the nation. In the novel Yang speaks about moving beyond what he describes as the "era of institutional failure" with plans to transform American political and economic systems to be resilient to 21st Century problems.