The use of medical marijuana has become so common that is has made its way into the pop culture.  It was recently a storyline on an episode of Grey's Anatomy. Longtime character, Dr. Richard Weber, accidentally drinks his wife's "weed juice," who is a cancer patient. Medical marijuana is integrating itself into common parts of life. Which means as an employer, you must be prepared on how to handle it in the workplace.
PBGH was joined by Tiffany Jenca of Cozen O'Connor during our webinar, "Medical Marijuana in the Workplace: How to be Prepared." Part of her presentation included comparing what Employers CANNOT do versus what they MAY do.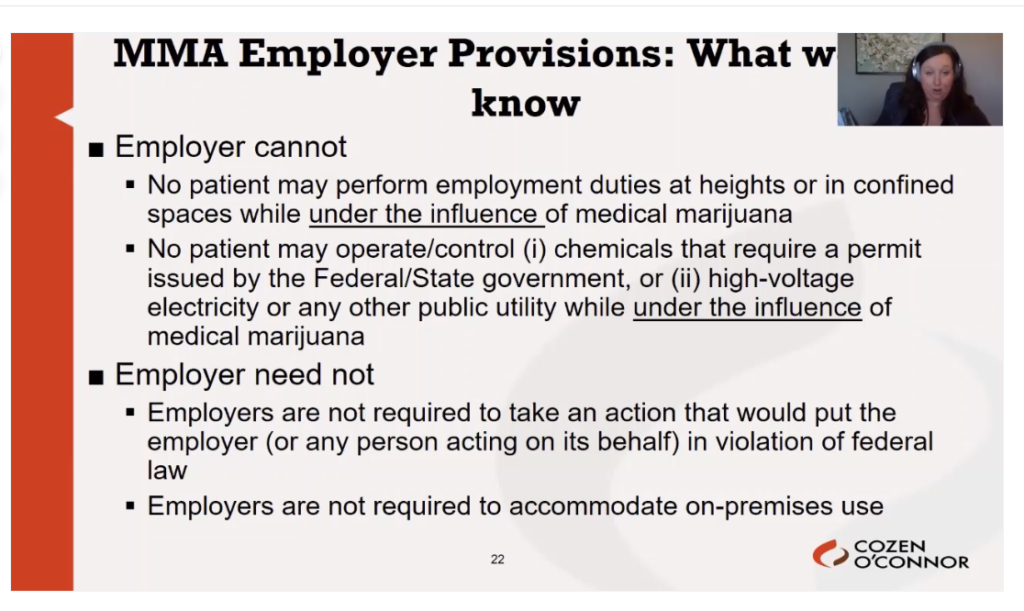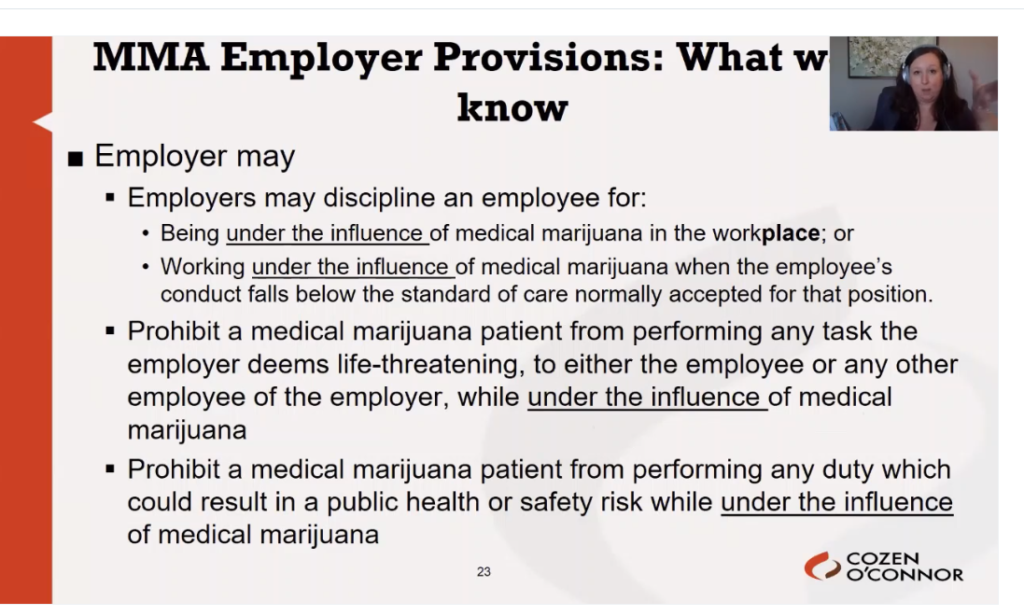 There is so much ambiguity around this topic, including the exact definition of "under the influence." More questions fall under what constitutes heights and confined spaces. And what's a work "task" versus an official work "duty." During the above-mentioned episode, Meredith Grey warns Dr. Weber that they would "shut down his career" if he goes wondering in the hospital hallways. So even Shonda Rhimes (Grey's anatomy writer and creator) recognizes the tough spot that employers are finding themselves in.
Because of this ambiguity, as an employer, always remind yourself to treat medical marijuana as a prescription drug. Do away with pre-judgement and bias. Look at it as medicine that is aiding your employee's health.
Marijuana is also a hot topic in political campaigns. Part of John Fetterman's drive of legalizing marijuana in his platform for PA senator is his wife's history with chronic pain and relief she found in medical marijuana. While it is becoming more accepting, she does feel pre-judgement is out there.
In a recent interview with Pittsburgh Tribune-Review, Gisele Barreto Fetterman commented on the pre-judgement that comes with marijuana use. "I had folks who would say, 'You don't look like a medical marijuana user: You dress so nice, and you're so kind,' (Gisele) Fetterman said. 'I still hear some of that, but when I first came out with it, I heard a lot of that. I see how that has changed, and I think it will be the same with this."
(John) Fetterman's competitor, Connor Lamb, who once voted against legalizing marijuana, has now even flipped his stance. His hesitation still rests with the vagueness around impairment with job duties that Jenca touched upon.
As an employer, try to have clear policies in place. These will help you through the ambiguous situations. You can find more resources, including publications on specific cases dealing with medical marijuana in the workplace on Cozen O'Connor's website: https://www.cozen.com/